Session of Angers 2023 – sesquicentenary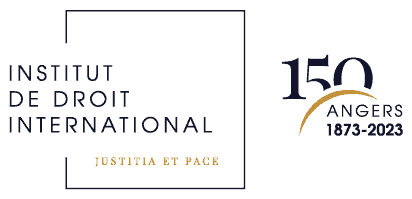 This year the Institute of International Law celebrated its 150th anniversary during its 81st session of Angers from 27 August until 2 September 2023. You will find a summary of the session below:
Bureau (2023-2025)
President: Mr Mohamed BENNOUNA
First Vice-President: Mr Raúl VINUESA
Second Vice-President: Mr Linos-Alexandre SICILIANOS
Third Vice-President: Ms Mahnoush ARSANJANI
Secretary-General: Mr Marcelo KOHEN
Treasurer: Mr Fausto POCAR
President of the Programme Committee: Ms Laurence BOISSON DE CHAZOURNES
Members
New Honorary Member:
Mr Gilbert GUILLAUME
New Titular Members:
Ms Jutta BRUNNÉE
Mr Jorge CARDONA LLORENS
Ms Hilary CHARLESWORTH
Mr Olivier CORTEN
Mr Rolf Einar FIFE
Ms Malgosia FITZMAURICE
Mr Claudio GROSSMAN
Mr Burkhard HESS
Ms Catherine KESSEDJIAN
Mr Vaclav MIKULKA
Mr André NOLLKAEMPER
Mr Dražen PETROVIĆ
Mr Tullio SCOVAZZI
Mr Yuval SHANY
Mr Dire TLADI
Mr Jorge VIÑUALES
New Associates:
Mr Payam AKHAVAN
Ms Edith BROWN-WEISS
Ms Cecilia FRESNEDO DE AGUIRRE
Mr Slim LAGHMANI
Mr Petros MAVROIDIS
Ms Angelika NUßBERGER
Ms Nilüfer ORAL
Mr Mario OYARZABAL
Mr Pavel ŠTURMA
Mr Nassib ZIADÉ
Declaration and Resolutions adopted by the Institute
Declaration
Declaration of Angers for the 150th Anniversary of the Institute of International Law– Justitia et Pace, 2 September 2023
Resolutions
The following resolutions were adopted in Angers:
– Piracy, Present Problems (11th Commission, Rapporteurs Tullio Scovazzi & Tullio Treves), 30 August 2023
– Precedents and Case Law (Jurisprudence) in Interstate Litigation and Advisory Proceedings, (2nd Commission, Rapporteurs Mohamed Bennouna & Alain Pellet), 1 September 2023
The Institute also adopted modifications relating to articles 1, 5, and 13 of its Statutes and article 3 of its Rules.
-> You can find the texts of the Declaration and the Resolutions under "Publications".
150th anniversary
In commemoration of its 150th anniversary, the Institute launched:
A Book : Institut de Droit international. 150 ans de contributions au développement du droit international – Justitia et Pace (1873-2023) (bilingual English-French))
A Documentary: Justitia et Pace. Le 150e anniversaire de l'Institut de Droit international (bilingual English/French)
-> The book can be obtained at Editions A. Pedone, Paris
-> Click here to watch the trailer of the documentary
New Commissions
Gender Equality and Equity in International Law
Mercenaries in International Law
The Determination of Quantum in International Adjudication
Prizes instituted by J.B. Scott
Special James Brown Scott Prize 2023:
The Special James Brown Scott Prize on « The Institute of International Law » has been awarded to Mr. Jean Paul Pierini for his manuscript entitled "The Early Attempts by the Institut de Droit International to Address Conflicts of Criminal Laws in the Subject-matter of Competence and the Convention that Never Was"
Carlos Calvo Prize 2025:
The Institute has decided that the Carlos Calvo Prize 2025 will focus on "The Law of Foreign Investment". The deadline for submitting a manuscript is 31 December 2024. The Prize Regulations are available here: https://www.idi-iil.org/en/a-propos/prix-j-b-scott/
Next session
In 2025, the 82nd session of the Institute will take place in Rabat, Morocco.
***
The programme of the session:
Sunday 27 August 2023 – Opening Ceremony
-> click here to watch the opening ceremony
President of the French Republic, Mr Emmanuel Macron
UN Secretary-General, Mr António Guterres
Minister for Ecological Transition and Territorial Cohesion, Mr Christophe Béchu
Minister of Justice, Garde des Sceaux, Mr Eric Dupond-Moretti
Director of Legal Affairs, Mr Diégo Colas
Director of General Affairs and Head of the Legal Department of the European External Action Service of the European Union, Mr Frank Hoffmeister
Vice President of Angers Loire Métropole, Mr Benoit Pilet
President of the University of Angers, Mr Christian Roblédo
President of the Institute of International Law, Mr Alain Pellet
Secretary-General of the Institute of International Law, Mr Marcelo Kohen
-> during the opening ceremony the Liber Memorialis will be launched
Monday 28 August 2023 – Launch of the documentary about the Institute
Monday 28 August until Saturday 2 September – Plenary meetings
The plenary meetings will include deliberations on the topics Piracy (11th commission) and Case Law and Precedents (2nd commission). Furthermore, there will be presentations of the reports on Global Commons, Cyber Activities, Distributive Justice and Sustainable Development, Statute and Functions of Conference of Parties to a Treaty, as well as Social Justice.
Finally, a declaration on fundamental principles of international law will be submitted to the plenary for adoption in light of the 150th anniversary.
Information about the plenary session (members only)
Saturday 2 September – Closing ceremony
***